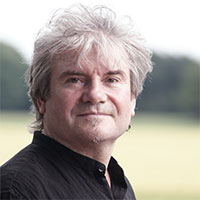 In the course of my artistic activities, I have developed my own special technique which I use to burn fine lines into a piece of paper. Over a period of months, these lines become more compact and form a delicate network. Finally, they gradually grow and turn into complex structures. I call them "burning trails".
My other designs and artistic works are based on these structures. This distinctive style flows into a wide range of artistic activities. Today, however, I focus my work on sculptural table and furniture objects. These objects are manufactured in limited editions with utmost precision and high-class quality made in Germany. They achieve their uniqueness as a result of the different materials, colouring and refinement, chosen to match customers' requirements. I want to open up new space to the creative minimisation in function and economics, energise things of everyday life by giving them a "soul" again. Oscillating between art and design, between usability and freedom of shape, my works of art are objects of archaic power and poetry, not merely functional but, with their individuality and characteristic design, they also provide an opponent to the curiosity of our mind.
I also accept with pleasure orders for the design of individual objects and develop artistic concepts in dialogue with the customer.